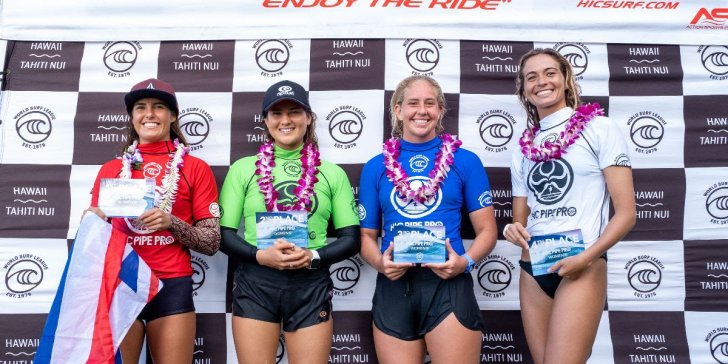 Wong Conquers Pipeline Among Stacked Field
Brisa Hennessy Earns Runner-Up Ahead of 2022 Championship Tour Start
Kauai, Hawaii's, Gabriela Bryan and Brianna Cope Round Out Finalists
Pictured: 
Finalists of the HIC Pipe Pro (L to R): Moana Wong (HAW), Brisa Hennessy (CRI), Gabriela Bryan (HAW), Brianna Cope (HAW). 
Credit
: © WSL /  Keoki
BANZAI PIPELINE, Oahu/Hawaii (Thursday, December 16, 2021) – Moana Wong (HAW) claimed a jaw-dropping victory at the World Surf League (WSL) HIC Pipe Pro, a Qualifying Series (QS) 1,000-level event, in solid four-to-six foot swell over Gabriela Bryan (HAW), Brianna Cope (HAW), and Brisa Hennessy (CRI) with a dominant/clutch performance at Pipeline and Backdoor for valuable Challenger Series points and a wildcard into the 2022 Championship Tour (CT) Billabong Pro Pipeline. This marks Wong's first-ever win at the world-famous reefbreak, sending herself over the ledge throughout finals day for a showcase of commitment. Men's competition was called off for the day with a likely start tomorrow.
"I always wanted to win this contest and I finally won it," said Wong. "I've been doing this contest since I was 12 years old, before it was taken by WSL, it was Betty Depolito who had this contest. So, I've been doing it for so many years and I always came so close. I finally accomplished my goal and I feel really, really good."
A slow start to the Final came to life at the 18-minute mark when Wong notched a near-excellent 7.67 (out of a possible 10) dropping into a hefty Pipeline set wave and found time behind the curtain. The ocean kept sending sets as the 21-year-old wasn't done and found a quick backup after Bryan and Hennessy sent themselves into heavy waves before Cope found a Backdoor screamer to unleash her forehand on. But, when all was said and done, Wong earned a dream chair-up at a wave she holds close to heart.

"I'm so so happy," added Wong. "I didn't think the waves were going to be this fun. It was such a surprise and a nice gift that the waves were like this. I'm stoked it was barreling and it wasn't just turns."
Pictured: 
A force to always be reckoned with, Hennessy's determination led her to a runner-up. 
Credit
: © WSL /  Keoki
Hennessy kept her dreams of staying among the world's best a reality in Haleiwa and came into the HIC Pipe Pro wanting more experience at the reefbreak. The 21-year-old's flair on her rail pushed her through stacked heats, overcoming confirmed 2022 CT Rookie Catilin Simmers (USA) and former WSL Junior Champion Keala Tomoda-Bannert (HAW) in the Quarterfinals. But, the Costa Rica representative still has work to put in after learning what Pipeline can do firsthand.
"I think my goal coming into this was I wanted to get the experience and feel the lineup without the huge crowd," said Hennessy. "It was such an incredible honor and blessing to share the lineup with some amazing Hawaiian surfers. I'm so stoked Moana (Wong) won, she's really put in the time out here. That's definitely my goal coming into this first stop on the Tour is just putting in the time. I think that will make a big difference. I got my fair share of beatings and I'm looking forward to better barrels and just better waves for sure."
Notable and Quotable
Pictured: 
A 19-year-old Bryan continues to make Finals, making four out of the last five event she's competed in. 
Credit
: © WSL /  Keoki
Bryan, 19, did everything she had to keep progressing in heats and made her way into the Final under the radar with consecutive runner-ups in her heats behind Wong. But, the former event winner helped eliminate confirmed 2022 CT Rookie Luana SIlva (HAW) and fellow North Shore standout Zoe McDougall in the Semifinals along with Round of 32 standout Freya Prumm (AUS). Now she takes incredible momentum into her CT debut in January, making four out of the last five Finals in events she's contested.
"Just to get a few heats out here at Pipeline with just four other people out is just really amazing, especially because I have my first CT coming up out here," said Bryan. "It was really good practice and now I know what I really need to work on and it was really fun honestly. The field was pretty stacked. Moana is so good out here, and probably is the best woman surfer out there, so just to surf against her and know what it takes –  it's not going to be easy going forward so I'm ready."
Pictured: 
Cope's aggression in the lip earned her an advancing spot in each heat with a big Semifinal win. 
Credit
: © WSL /  Keoki
Cope overcame a hefty finals day lineup including the likes of CT competitor Courtney Conlogue (USA) and Keala Kennelly (HAW) In the Semifinals, former CT competitor Coco Ho (HAW) and multiple CT wildcard Bethany Hamilton (HAW) in the Quarterfinals. The Kauai, Hawaii, surfer's forehand at Backdoor kept her surging through to the Final.
"It was so fun, it was actually probably one of the toughest contests because it's such a scary wave and you hear so many stories about it," said Cope. "So having all the girls supporting each other and charging and stepping it up (was great). I actually haven't spent a lot of time out there but my coach Rochelle Ballard spent a lot of time and she was giving me a lot of tips. I'm excited to spend more time and put in more work out here and maybe get deeper in the barrel."
Event organizers will reconvene for a 7:00 a.m. HST call to determine a likely 8:00 a.m. HST start for men's Round of 64.
For more information, please visit www.WorldSurfLeague.com.
The HIC Pipe Pro will run from December 8 – 20 at Banzai Pipeline, Oahu, Hawaii.
HIC Pipe Pro Final Results:
1 –  Moana Wong (HAW) 11.34     1,000 points
2 –  Brisa Hennessy (CRI) 8.37
3 –  Gabriela Bryan (HAW) 6.50       560 points
4 –  Brianna Cope (HAW) 5.83         525 points
HIC Pipe Pro Semifinal Results:
SF 1: Moana Wong (HAW) 12.00, Gabriela Bryan (HAW) 10.44, Zoe McDougall (HAW) 6.44, Luana Silva (HAW) 5.83
SF 2: Brianna Cope (HAW) 8.24, Brisa Hennessy (CRI) 5.80, Courtney Conlogue (USA) 5.26, Keala Kennelly (HAW) 3.10
HIC Pipe Pro Quarterfinal Results:
QF 1: Moana Wong (HAW) 8.60, Gabriela Bryan (HAW) 6.86, Anastasia Ashley (USA) 6.80, Freya Prumm (AUS) 3.46
QF 2: Luana Silva (HAW) 7.27, Zoe McDougall (HAW) 6.57, Eweleiula Wong (HAW) 6.46, Nora Liotta (HAW) 4.43
QF 3: Courtney Conlogue (USA) 8.20, Brisa Hennessy (CRI) 7.74, Keala Tomoda-Bannert (HAW) 6.90, Caitlin Simmers (USA) 1.44
QF 4: Brianna Cope (HAW) 5.40, Keala Kennelly (HAW) 5.47, Coco Ho (HAW) 4.13, Bethany Hamilton (HAW) 4.07
HIC Pipe Pro Round of 32 Results:
Heat 1: Freya Prumm (AUS) 9.17, Nora Liotta (HAW) 5.33, Stella Valdez (USA) 4.43,Chrislyn Simpson-Kane (HAW) 4.23
Heat 2: Moana Wong (HAW) 16.17, Luana Silva (HAW) 10.27, Vahine Fierro (FRA) 7.47, Vahitimahana Inso (HAW) 5.10
Heat 3: Zoe McDougall (HAW) 9.00, Gabriela Bryan (HAW) 6.40, Irie Fitzgeral (GUA) 4.00, Angelina Yossa (HAW) 1.06
Heat 4: Eweleiula Wong (HAW) 7.14, Anastasia Ashley (USA) 7.07, Malia Ward (USA) 5.90, Haylee Boverman (HAW) 4.03
Heat 5: Courtney Conlogue (USA) 9.43, Keala Kennelly (HAW) 8.50, Erin Brooks (HAW) 6.57, Leila Riccobuano (HAW) 6.23
Heat 6: Caitlin Simmers (USA) 6.33, Coco Ho (HAW) 5.84, Pua Desoto (HAW) 3.33, Chesney Guinotte (HAW) 0.00
Heat 7: Bethany Hamilton (HAW) 7.50, Keala Tomoda-Bannert (HAW) 6.90, Bettylou Sakura Johnson (HAW) 4.00, Lane Davey (HAW) 0.73
Heat 8: Brianna Cope (HAW) 8.43, Brisa Hennessy (CRI) 7.00, Maluhia Kinimaka (HAW) 6.17, Kohai Fierro (PYF) 4.90