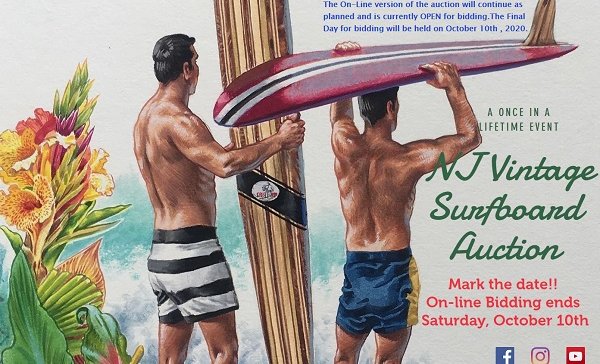 Times running out…Pls drop in with us!
Yes, it's on the east coast but it's a great cause …with a team that includes several local legends…
The NJ Vintage Surf Auction is a once in a lifetime event with a room of full of the most iconic surfboards and legends assembled in one place on the East Coast.
Check out some of the beauties that will be up for auction! Don't miss out!
THE EVENT
Surf Vaults across America are being unveiled for the first time. 
Such board as: Pre 1960's Redwood & Balsa, a heavy display of 1960's classics, Lightning Bolts, Guns, 1980's and Re-creation Wood Boards by Master Craftsmen including Greg Noll, Hap Jacobs, Dale Velzy, and Phil Edwards to name a few. 
ALL BIDDERS
On-line bidding has STARTED and will be updated daily and will end October 10th.
Bids are in increments of $100.00 unless otherwise authorized. Only ONE bidder number per person / anyone found attempting to "run up" a bid via second identity will be disqualified.
We hold all bidders to the Terms & Conditions and request your honor in upholding the auction process.
We will close each lot starting with Lot #1 at 10:00AM EST and continue in numeric order.  if there is bidding activity on any one lot we will leave it open until the bidding is completed.
Register now and get your bidding number so you can get started.
Need help registering?
Call Mike Miggs at 732-233-7333 or email:/ coachmiggs@optonline.net 
ALL Bidders will receive a credit card approval form from by the accounting team of Vitollo & Assoc.  The winning bidders credit card will be charged automatically and will receive an email receipt congratulating them on the winning bid.  There will be NO credit card fees charged.