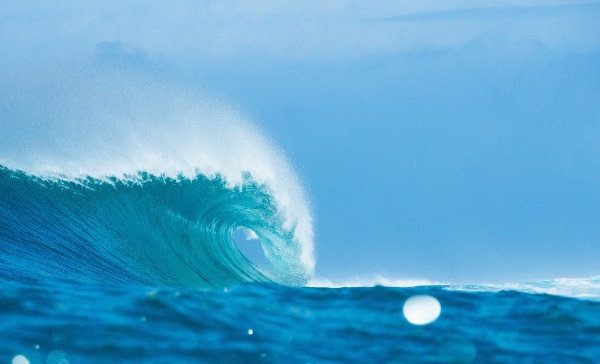 ---
– TWENTY-FIVE CHAMPIONSHIP TOUR SURFERS CONFIRMED IN 128-MAN DRAW
– MICHAEL FEBRUARY, PATRICK GUDAUSKAS CHAMPION COMMUNITY-CONSCIOUS ACTIVATIONS
Empty Sunset shot Credit:
 © WSL / Sloane
Sunset Beach will turn on for the Vans World Cup, as a set of swells are forecasted for the November 25 –  December 6 holding window. 
Haleiwa, Oahu/HAWAII — (Tuesday, November 20, 2018) – After a powerful culmination to the Hawaiian Pro, which saw 3x Vans Triple Crown of Surfing Champion and 2012 World Surf League (WSL) World Champion Joel Parkinson (AUS) earn the event win, the professional surfing world now swings from Haleiwa to Sunset Beach for the second event of the series, the Vans World Cup of Surfing, from November 25 – December 6. Parkinson leads the Vans Triple Crown of Surfing (VTCS) title after his victory at Haleiwa and is in a strong position to close out his career on a high note in Hawaii.
Emotion and drama will create a high-stakes atmosphere at the 2018 Vans World Cup, as this WSL Men's Qualifying Series (QS) 10,000 event is the final QS competition of the year and will determine ten hard-earned spots to the 2019 Championship Tour (CT). Athletes' careers are shaped at the year-ending Vans World Cup and those on the bubble of qualification will fight for a place atop the podium, alongside the prestige of winning at one of the most challenging big-wave breaks on the planet.

Michael February (ZAF) at the 2017 Vans World Cup of Surfing. Credit: © WSL / Keoki
Twenty-five of the world's best from the CT will compete once the event is called on and, in the meantime, Vans will continue to champion community-conscious activations outside of the competition and around the North Shore (see event calendar below). Part of this event lineup included a movie screening and talk story Q&A panel with CT athletes Patrick Gudauskas (USA) and Michael February (ZAF), both of whom are heavily invested in philanthropic initiatives around the world. The film Can't Steal Our Vibe highlighted the various programs that Gudauskas and his brothers, plus February, are a part of; Waves for Change and surfboard drives in Jamaica and South Africa for underprivileged youth are prime examples of how these athletes drive positive impact through surfing beyond competing.
"In surfing, you can be really hard on yourself sometimes, especially in competition," said February. "But when I get to spend time with kids who really benefit from the simplest thing of just going into the water, and I see their stoke and how much positivity it brings, it really brings me back and makes me realize how lucky I am to be doing this for a living."
Defending Vans World Cup winner Conner Coffin (USA) is within the top 10 surfers seeded into the Round of 64 out of a 128-man field, along with World Title contender Filipe Toledo (BRA). However, over a quarter of the contestants are from Hawaii (36 total excluding CT athletes) and looking to play spoiler, and at a break like Sunset, wave knowledge is key to succeeding in the lineup and advancing through rounds.

2017 Vans World Cup of Surfing winner, Conner Coffin (USA), sets up to attack a massive wave at Sunset Beach. Credit: © WSL / Keoki
Sunset Beach is a world-class locale and one of the most consistent big wave venues on the planet.
The North Pacific is on cue to deliver the biggest swell of the winter season by far for the first week of the Vans World Cup holding period. The first mid-14 sec period NW comes Sunday at solid 6-8′ with 10′ sets by noon as the second long period NW pops the buoys. Monday should see at least 8-12′ early with wash throughs after lunch in the Extra-large category & sets cracking select outer reefs. Monday afternoon into Tuesday, November 26-27 surf should hit 15-20′ (face heights estimated to reach 25-35ft). Such heights will see only Waimea and outer reefs rideable. All other spots will be washing through on sets. Select spots could reach 25′ (E.G. Pe'ahi). The models quiet down after this BIG one, relatively speaking. SNN.
Also recognized as a fragile stretch of shoreline due to its susceptibility to most swell directions, Sunset has borne the brunt of severe erosion over the past few winter seasons and WSL and Vans continue to make concerted efforts to help protect the shoreline in a variety of ways.
This year, with the exception of a couple of camera towers, the Vans World Cup will operate completely off the beach and with a reduced footprint to minimize impact, while still ensuring a professional opportunity for surfers. WSL also donated time, money and resources toward North Shore Community Land Trust's Sunset Beach Dune Restoration Project, which saw over 400 native coastal species planted along the shoreline to reduce erosion and protect the dunes. They also aided in fence-building, plant propagation and wide-spread awareness. To educate both visitors and locals, WSL produced a short edit about protecting the North Shore's coastal future, which will be screened at various events throughout VTCS and available to watch at WorldSurfLeague.com and VansTripleCrownOfSurfing.com.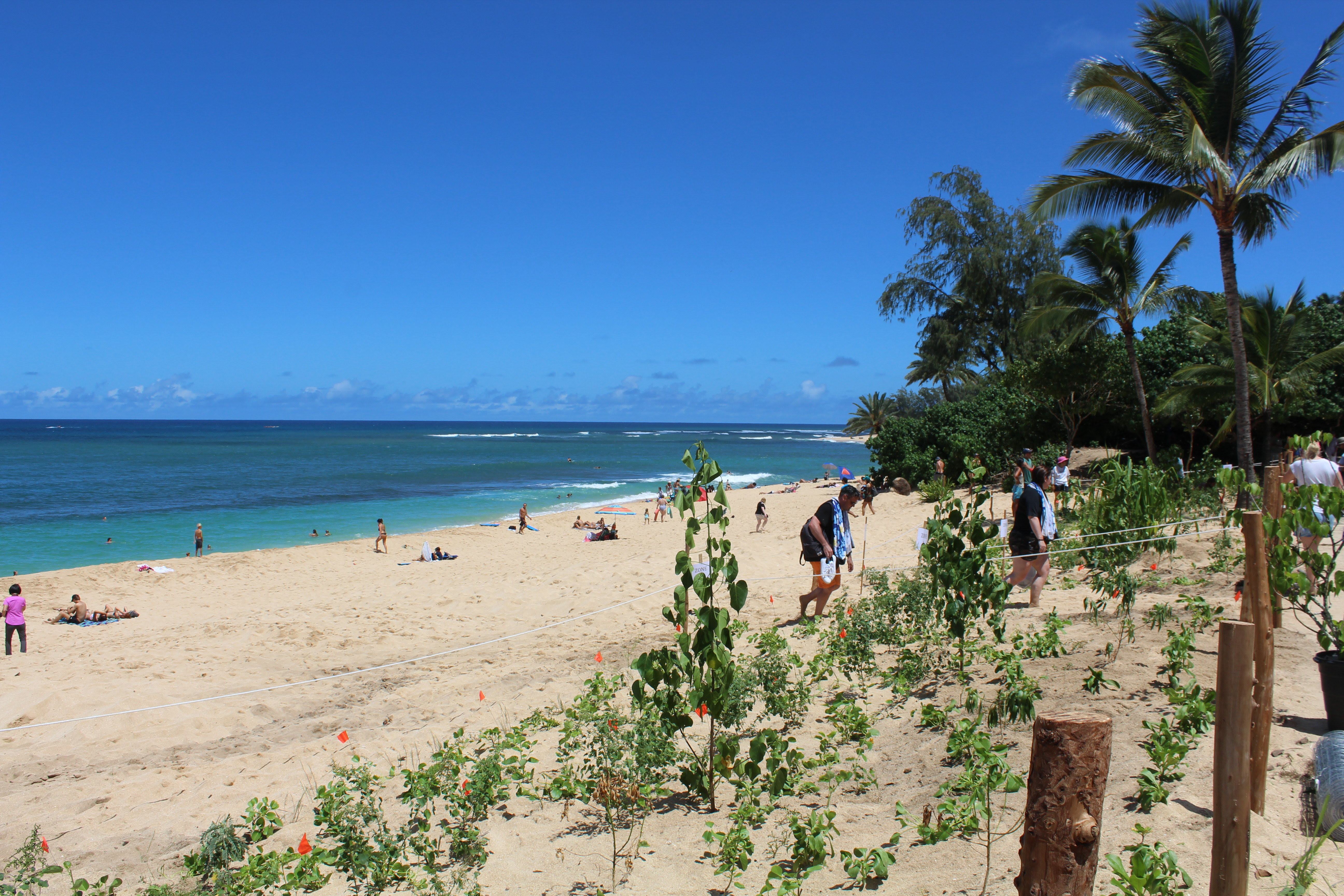 100 volunteers turned out for the first Sunset Beach Dune Restoration volunteer workday to help plant vegetation and set up fencing along the shoreline. Credit: © WSL / Rolland
Each event of the 2018 Vans Triple Crown of Surfing will run on the four best days of surf within the event's holding window. LIVE streaming is available on WorldSurfLeague.com, VansTripleCrownOfSurfing.com, Facebook.com/wsllive and the WSL and Facebook apps (Facebook login required for mobile viewing). Or tune into Spectrum SURF Channel, which will televise the action LIVE and in replay on digital channels 20 and 1020HD, across the state of Hawaii.
2018 Vans Triple Crown Community Events Calendar:
December 1 | North Shore Community Land Trust Benefit for the Country
Sunset Ranch, Pupukea, 5pm – 9pm
Open to public, more info at northshoreland.org
December 2 | Plastic Free Pipeline Talk Story
SURFER the Bar, Turtle Bay Resort 7pm – 10pm
Open to public, $5 donation
December 3 | Vans Skate Jam
Banzai Skate Bowl, 2pm – 7pm
Open to public
December 4 | Nathan Fletcher Celebrates 20 Years with Vans
Turtle Bay Resort, 7pm
Open to public
December 5 | Duct Tape Festival Guest Panel
Bonzer Front, Haleiwa
Open to public
December 7 | Vans Duct Tape Festival 
Custom-shaped board library for public use
South shore by day, details to come
The Salt Hangar in Kakaako by night, Honolulu
Open to public
December 8 | Sustainable Coastlines Hawaii Beach Cleanup + After Party
James Campbell National Wildlife Refuge, Kahuku
Waihuena Farm, North Shore
Open to public
About Vans
Vans®, a VF Corporation (NYSE: VFC) brand, is the original action sports footwear, apparel and accessories brand. Vans® authentic collections are sold in 84 countries through a network of subsidiaries, distributors and international offices. Vans® has over 2,000 retail locations globally including owned, concession and partnership doors. The Vans® brand promotes creative self-expression in youth culture across action sports, art, music and street culture and delivers progressive platforms such as the Vans Park Series, Vans Triple Crown of Surfing®, Vans Pool Party, Vans Custom Culture, and Vans' cultural hub and international music venue, House of Vans.