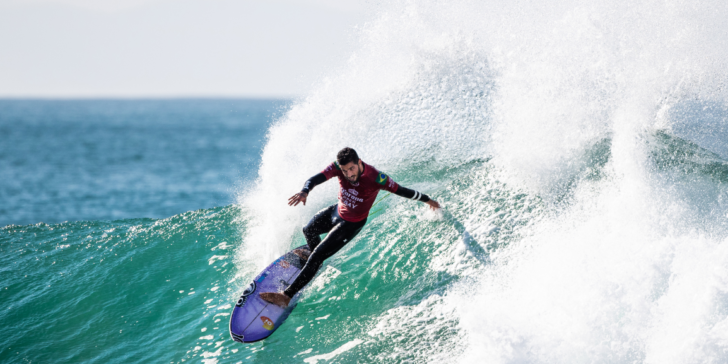 California's Kolohe Andino Overtakes John John Florence on World Rankings

Defending Event Winner Stephanie Gilmore and World No. 1 Sally Fitzgibbons Ousted in Quarters

Filipe Toledo, Carissa Moore, Lakey Peterson, and Kanoa Igarashi Continue to Shine at J-Bay
 Defending event winner Filipe Toledo (BRA) is through to the Quarterfinals after an incredible performance at today's Corona Open J-Bay. Credit: © WSL / Sloane
JEFFREYS BAY, South Africa (Wednesday, July 17, 2019) – The men's Quarterfinalists and women's Semifinalists were decided today at the Corona Open J-Bay, the sixth stop on the 2019 World Surf League (WSL) Championship Tour (CT). The dramatic eliminations in the men's Round of 16 and women's Quarterfinals said goodbye to previous event winners Stephanie Gilmore (AUS), Kelly Slater (USA), and Jordy Smith (ZAF), as well as World No. 1 Sally Fitzgibbons (AUS) in three-to-five foot (0.9 – 1.5 meter) waves. Now only four women and eight men remain in the draw heading into sizeable conditions forecast for the coming days.
South Africa's Jordy Smith Eliminated in Round of 16
In a disappointing start for the local fans, event favorite Jordy Smith (ZAF) fell to Owen Wright (AUS) in the opening heat of the Round of 16. It was a showcase of regular versus goofy-foot surfing with both surfers in tune with the perfect sets at J-Bay. Smith started with the first 7-point ride of the morning, but Wright raised the bar with a beautiful combination of backhand maneuvers for a 7.93 (out of a possible 10). Sitting with priority, Smith allowed Wright to go on a set wave and the Australian committed to the end, finishing on dry reef for an excellent 8.30. The win marks Wright's first head-to-head win against Smith.

"You always look forward to those matchups, especially on home court," said Wright. "Jordy (Smith) being so good out here, having won a couple of times, I was looking forward to that one. There are some really good waves out there, probably as perfect as it gets. With the 8.30, I don't know what was going on there but he just kind of let it go and it caught me by surprise so I took off late. I went all the way and dry docked-it. I think the end section is key for points on the wave and you're just dealing with the bricks, I was standing on my board not knowing where to go and just jumped off on dry rock."
California's Kolohe Andino Overtakes John John Florence on World Rankings
Kolohe Andino (USA) overtook World No. 1 John John Florence (HAW) after advancing to the Quarterfinals ahead of rookie Deivid Silva (BRA). Andino will have to continue his charge to hold onto the lead with Filipe Toledo (BRA), Kanoa Igarashi (JPN), and Italo Ferreira (BRA) hot on his heels. Smith, who sat in fourth place heading into this event, will need to make up ground at the next stop on the men's CT, the Tahiti Pro Teahupo'o.

"Honestly I think the gold jersey has been a bit of a burden, no one has taken it and ran with it since there's been a gold jersey," said Andino. "It's still a long year and we're technically at the halfway point and I'm just stoked with the beginning of my year. J-Bay has always been a really difficult wave for me to surf, so I'm just really stoked to come away with a keeper result and be in the Quarters. The people who surf this wave well are really confident; they're not nervous if they are not going to make the wave even if they just do some big turns because the wave is really fast but you can still sit back and do some big turns. I'm just trying to enjoy it and have fun. We're at one of the wonders of the world if you're a surfer. I've been spending a lot of time in the water and I'm just having fun."
Defending Event Winner Gilmore and World No. 1 Fitzgibbons Ousted in Quarters
The first women's Quarterfinal matchup between defending event winner Stephanie Gilmore (AUS) and Caroline Marks (USA) was a rematch from their clash on the Gold Coast at the beginning of this season. Their meeting in J-Bay was a slow and inconsistent heat, which saw Gilmore opt for a few smaller inside waves to build on her lead. Marks managed to find the set waves to display her groomed backhand and Gilmore, sitting with only a pair of 6-point rides, failed to find another wave for the required score. 17-year-old Marks records her second win over the seven-time WSL Champion and moves into the Semifinals where she will face another WSL Champion, Carissa Moore (HAW).

Watch Caroline Marks' post-heat interview.

"My biggest problem was that I couldn't finish any of my waves," said Gilmore. "I had the opportunity and a great wave, but then I feel off on that floater. Caroline (Marks) is on fire, and her backhand is so spicy out here. The swell is slower, and the wave is bending so it suits the goofy-footers. That was a crucial heat for both of us for the Title race, so I'm very disappointed with that. Now it's just back to the drawing board."

Although Sally Fitzgibbons (AUS) looked comfortable in the Jeep Leader Jersey and surfed with confidence in her Quarterfinal heat against Malia Manuel (HAW), she will exit the Corona Open J-Bay in Equal 5th place. It was a nail-biting finish with Manuel going all-out on her last wave for a buzzer-beater 7.03, needing a 6.51.

"I was really happy with my start and it was going according to plan," said Manuel. "I was sitting out there for quite a while with the 7. Just having patience and calm acceptance with the situation. I not just waiting but waiting with the right attitude. Sally (Fitzgibbons) and I shared some amazing waves out there, I'm really happy."

"Battles like that, that's what we suit up for," said Fitzgibbons. "Malia (Manuel) and I, we've had some great battles before. There was a lot going on at the end, looking back at the heat I learned a lot of lessons from it. Now we just move forward and enjoy whoever is in the Final."
Toledo, Moore, Peterson, and Igarashi Continue to Shine at Jeffreys Bay
Filipe Toledo (BRA) continued to dominate the Corona Open J-Bay with the highest heat total of the event so far, an excellent 18.26 (out of a possible 20) to eliminate compatriot Willian Cardoso (BRA). Toledo is aiming for an incredible three-peat at J-Bay and will also look to close the gap on the Jeep Leaderboard between himself and Andino.

Watch Filipe Toledo's post-heat interview. 

Three-time WSL Champion Carissa Moore (HAW) was on fire in her Quarterfinal clash with good friend Johanne Defay (FRA). Moore opened her account with an 8.17 and backed it up with a near-perfect 9.50 with a strong three-turn combination and a quick, clean barrel section. Defay was stuck in a combination situation, needing two new waves to advance. Coming from a runner-up finish at the Oi Rio Pro, Moore will hope to go one better in South Africa.
It was a battle between two of California's best, Courtney Conlogue (USA) and Lakey Peterson (USA), in the last Quarterfinal. Conlogue changed boards halfway in the heat after creasing her board on a wave, giving Peterson a perfect opportunity to take advantage of the priority and time with an 8.57 already on the scoreboard. Conlogue failed to improve her score, while Peterson found a smaller wave towards the end of the heat, tucking in for a small tube ride for a 5.83 and securing the win with a 14.40 total.

Watch Lakey Peterson's post-heat interview.

Kanoa Igarashi (JPN) was in another class against rookie Peterson Crisanto (BRA) and booked his spot in the Quarterfinals with a near-perfect 9.07 and an excellent 8.17 for a total of 17.24 (out of a possible 20). Crisanto found some great waves but was unable to match Igarashi's fast and powerful surfing. The rookie now exists with a 9th place finish.
Mixed Results for World Champions
The last heat of the Round of 16 saw another big elimination with Italo Ferreira (BRA) dispatching Kelly Slater (USA). Trailing Ferreira, Slater took off on a medium-sized wave under priority for a 7.10, but it was not enough to capture the lead. The ocean went flat for the 11-time World Champion, moving Ferriera into the Quarterfinals and eliminating Slater in Equal 9th place.

"I thought we would have more opportunities," said Slater. "All our opportunities came in the first half of the heat, and then it went slow. I didn't read the waves super right. I probably had the chance to win the heat but it just came down to being a slow heat. It's a little frustrating because this is the event where all the top guys seem to be doing well and it's about losing ground with all the guys that are behind me. I'll get passed by Gabriel Medina. I need to win a couple of contests to be in any kind of World Title contention."

More than halfway into Heat 2 of the R/16, it looked like a big upset was unfolding with two-time WSL Champion Gabriel Medina (BRA) needing a big score to match Ryan Callinan (AUS). A flurry of rides in the last few minutes saw Medina come alive, finding his best two scores to nudge out Callinan and advance to the Quarterfinals.

"That was a tough heat, it's really slow out there, I'm so happy to make it through," said Medina. "I had to work really hard on that one, but in the end, it all paid off. Ryan (Callinan) is a great surfer, he always pushes me in every heat that we have, and it's always been close calls. I stayed with priority for almost 20 minutes and nothing came, I was just asking God to please give me a wave. I got that first one, which was good, then Ryan got the second one, which was okay but too fast. When I saw the set coming, I knew I had another chance. I didn't even think, I just went for that one and I'm so happy to make it through."

Sebastian Zietz (HAW) and Adrian Buchan (AUS) are also through to the Quarterfinals after eliminating Michel Bourez (FRA) and Ezekiel Lau (HAW), respectively.
The next call for the Corona Open J-Bay will be tomorrow, Thursday, July 18, at 7:30 a.m. SAST for a possible 8:05 a.m. start.

The Corona Open J-Bay will be broadcast LIVE on WorldSurfLeague.com and Facebook.com/WSL. Also, check local listings for coverage from the WSL's broadcast partners.
Corona Open J-Bay Men's Round of 16 Results:
Heat 1: Owen Wright (AUS) 16.23 DEF. Jordy Smith (ZAF) 14.70
Heat 2: Gabriel Medina (BRA) 12.94 DEF. Ryan Callinan (AUS) 11.67
Heat 3: Kolohe Andino (USA) 12.73 DEF. Deivid Silva (BRA) 12.14
Heat 4: Adrian Buchan (AUS) 13.43 DEF. Ezekiel Lau (HAW) 13.00
Heat 5: Filipe Toledo (BRA) 18.26 DEF. Willian Cardoso (BRA) 11.33
Heat 6: Sebastian Zietz (HAW) 13.83 DEF. Michel Bourez (FRA) 11.44
Heat 7: Kanoa Igarashi (JPN) 17.24 DEF. Peterson Crisanto (BRA) 11.73
Heat 8: Italo Ferreira (BRA) 14.06 DEF. Kelly Slater (USA) 12.20Corona Open J-Bay Men's Quarterfinal Matchups:
QF 1: Owen Wright (AUS) vs. Gabriel Medina (BRA)
QF 2: Kolohe Andino (USA) vs. Adrian Buchan (AUS)
QF 3: Filipe Toledo (BRA) vs. Sebastian Zietz (HAW)
QF 4: Kanoa Igarashi (JPN) vs. Italo Ferreira (BRA)

Corona Open J-Bay Women's Quarterfinal Results:
QF 1: Caroline Marks (USA) 14.44 DEF. Stephanie Gilmore (AUS) 13.10
QF 2: Carissa Moore (HAW) 17.67 DEF. Johanne Defay (FRA) 12.50
QF 3: Malia Manuel (HAW) 14.03 DEF. Sally Fitzgibbons (AUS) 13.50
QF 4: Lakey Peterson (USA) 14.40 DEF. Courtney Conlogue (USA) 11.00

Corona Open J-Bay Women's Semifinal Matchups:
SF 1: Caroline Marks (USA) vs. Carissa Moore (HAW)
SF 2: Malia Manuel (HAW) vs. Lakey Peterson (USA)