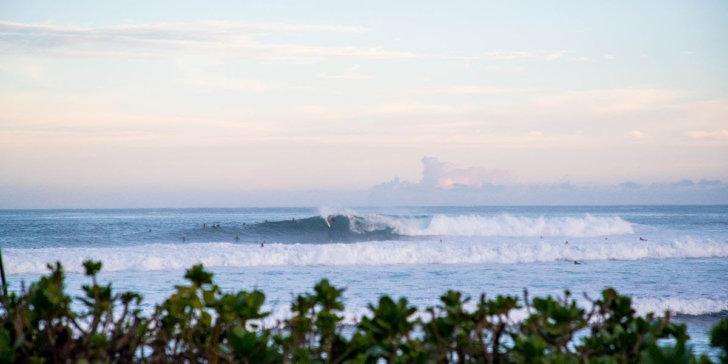 A gorgeous day and the forecast is superb this week as we leave behind some epic N to NNE back-to-back events for 2 solid NW'rs.
Starting Tuesday with light SE winds, a new 17 sec NW is lifting Haleiwa all day from 3-5'+ earlier to 5-7'+ later.
Wednesday will be on the slow decline but still plenty 'nough for comp.
Then a Bigger longer period 18 sec NW fills in all Thursday Dec 1st and will allow Haleiwa to reach 8′ and maybe even a chance of bigger 10′ sets later in the day!
This one also peaks in the evening but some 8' or triple overhead surf again Friday Dec 2nd.
With light-moderate Trades Winds most the work week it's looking pretty much Classic. SNN
Haleiwa Challenger presented by The Hawaiian Islands Called ON
Pictured: The iconic lineup of Haleiwa is on the rise with a new north, west northwest, swell stacking for competition to commence. Credit: © WSL / Heff
HALEIWA, Oahu/Hawaii (Tuesday, November 29, 2022) – The Haleiwa Challenger presented by The Hawaiian Islands, the final stop of the World Surf League (WSL) 2023 Challenger Series (CS), has been called ON for an 8:05 a.m. HST start. Women's Round of 48 starts competition with six-to-ten foot, building, wave faces pulsing into Haleiwa. Men's Round of 80 will immediately follow to finish opening day action.
"The new west swell has filled in overnight as forecasted and we're on at 8:05 a.m. starting with the women," said Hawaii/Tahiti Nui Event Director Marty Thomas. "The surf is pumping and building through the day with very clean, light offshore winds. It's going to be a great day of surfing for both the men and women getting their respective, opening rounds underway. Thank you to the local community and all those who helped make this event possible."
Women's competition opens with recently confirmed, 2023 Challenger Series competitor, and Oahu's own, Eweleiula Wong, Kauai's solidified contender Keala Tomoda-Bannert, one of Portugal's up-and-coming competitors Mafalda Lopes, and Japan's proven QS surfer Rina Matsunaga in Round of 48, Heat 1.
The men's event begins with three-time Sunset Beach, Qualifying Series (QS), victor Billy Kemper (HAW), facing reigning North America Regional QS Champion, Michael Dunphy (USA), alongside Pascuales, Mexico, charger Alan Cleland, and Santa Cruz, California's, emerging talent John Mel in Round of 80, Heat 1.
Watch LIVE
The Haleiwa Challenger holds a competition window November 26 – December 7. Once called ON, the contest will be broadcast LIVE on WorldSurfLeague.com, WSL's YouTube channel, and on the free WSL app. Also, check local listings for coverage from the WSL's broadcast partners.The Haleiwa Challenger presented by The Hawaiian Islands is proudly sponsored by At Home in the Hawaii Islands, Hawaiian Tourism, Shisiedo, Havaianas, Specturm, 805, Alaska Air, Turtle Bay, Fu Wax, and Hydro Flask.
About the WSL
The World Surf League (WSL) is the global home of competitive surfing, crowning the undisputed World Champions since 1976 and showcasing the world's best surfers on the world's best waves. WSL is comprised of the Tours and Competition division, which oversees and operates more than 180 global competitions each year; WSL WaveCo, home of the world's largest high-performance, human-made wave; and WSL Studios, an independent producer of unscripted and scripted projects.