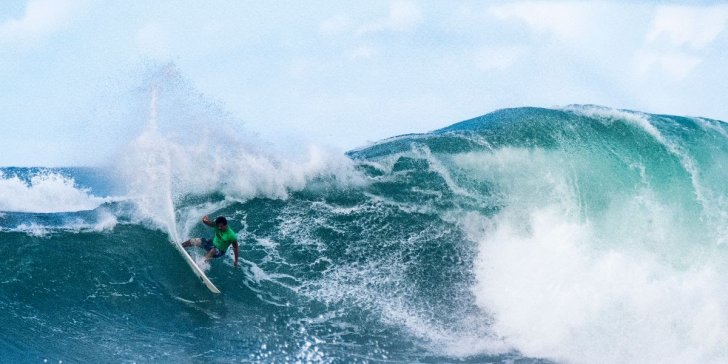 Premium Waves and Scores at Hawaiian Pro
• De Vries, Massin, Kemper, Ewing Earn Near-Perfect Nines
• Tanner Gudauskas Announces Retirement
 FRONT PAGE: O'Neill Massin (PYF) carves out an excellent 9.60, the second best score of the 2019 Hawaiian Pro.
Credit: © WSL / Keoki
Haleiwa, Oahu/HAWAII — (Saturday, November 16, 2019) – The Hawaiian Pro fired back into action this morning with multiple athletes unleashing powerful performances to rival Haleiwa's menacing conditions. Day 2 of the World Surf League (WSL) Men's Qualifying Series (QS) 10,000 saw the swell increase through the afternoon with power surfers emerging to post the best scores of the event; Beyrick De Vries (ZAF), O'Neill Massin (PYF), Billy Kemper (HAW) and Ethan Ewing (AUS) all scored near-perfect rides to imprint their names in Haleiwa history.
Contest organizers made a great call earlier this morning by putting the competition on standby and like clockwork, Haleiwa completely turned on by 11:00am. Waves up to 15ft. pumped through the lineup as the infamous current made for a physically-demanding day of high-performance surfing.
The first excellent score, a 9.40, came from Kemper as he set the benchmark for the day with high-energy surfing. Committed turns and critical finishes saw him take a commanding lead to close out Round 1 with a heat total of 17.73. With style and power reminiscent of Sunny Garcia, Kemper is dead-set on a Vans Triple Crown title and looking to the most successful Champion of the heritage series – Garcia, who holds an unmatched six titles – as inspiration.
Billy Kemper (HAW) went power for power with Haleiwa this morning in the second-to-last heat of Round 1.
Credit: © WSL / Keoki
"The Vans Triple Crown is my version of the World Title," said Kemper. "Obviously the Big Wave World Title is a huge accomplishment for me and a dream come true, I'm grateful to win one of those. But the Triple Crown has been something since I was just a little kid walking around getting autographs from Johnny Boy and Sunny. Just trying to take my inner Sunny and manifest and open up some big turns on some open face walls. I'm really excited for tomorrow and the next few days. I think this is going to be the smallest of the rest of the event so I can't wait to get on a bigger board and just really have fun and open up on some 10ft. Haleiwa walls. The Triple Crown is definitely all I can think about."
The best score of the day, a 9.90, went to Beyrick De Vries (ZAF) after he committed to a critical section for a massive vertical turn on a near triple-overhead wave. His North Shore acumen was clear as he positioned himself deepest in the lineup to harness the power of Haleiwa to its full potential. No stranger to maxing surf, De Vries nailed a perfect 10-point barrel ride six years ago at the 2013 Vans World Cup of Surfing for a massive Sunset West Bowl combined with a series of turns to lock in one of the best rides in competition history.
"The waves have definitely gotten bigger and it was kind of growing all day," said De Vries. "I've got this magic 6'6 that I rode last year and I was hoping it was going to be big enough, but I rode it this morning and I was like, 'Actually you know what, whatever size, even if it's small lefts I'm riding this 6'6.' And it worked out. I went and sat a little bit deeper to try and get a bit more power for the first turn and then I managed to get those two scores."
Commentators likened De Vries' stylish surfing to Gerry Lopez, big wave master and North Shore legend.
Credit: © WSL / Keoki
De Vries backed up his 9.90 with a 7.10 and was points ahead of second advancing athlete, Carlos Munoz (CRI) to guard a slot in Round 3. He will go against Joan Duru (FRA), Sebastian Zietz (HAW) and Evan Geiselman (USA) in Heat 7 once competition resumes.
Tahiti's powerhouse, O'Neill Massin (PYF) ended the day with near-perfection after tallying the highest combined heat total of the event, a massive 18.20. Massin has fine-tuned his big wave surfing at Teahupo'o over the years, which translates well on competition days like today. While Haleiwa showed its teeth, Massin looked comfortable in his element as others struggled just to stay in position.
The first heat of the day saw Tanner Gudauskas (USA) open with excellence on his backhand and secure an 8.20 and 8.00 for the heat win ahead of Luke Gordon (USA). "There's nothing like a good Haleiwa wave, especially on your backhand," said Gudauskas. "It's just fun to be able to compete here at the Vans Triple Crown."
With a good rhythm and expert wave selection, Gudauskas' in-form performance will be one of his last since he announced retirement from competition during his post-heat interview.
Tanner Gudauskas looks to end his last competitive year on a high note at Haleiwa.
Credit: © WSL / Keoki
"For me it's a special event, this will be my last Triple Crown," he continued. "I'm going to stop competing after this year. As it stands now, I'm an alternate at Sunset so I'm just enjoying every step of it." Gudauskas plans to keep chasing his passion for freesurfing and growing his nonprofit, Positive Vibe Warriors. "It's been a transition over a couple of years. I've already had a blast competing, so it feels good to just step away on a good note."
Last year, Ethan Ewing (AUS) came close to re-qualifying for the Championship Tour (CT) but eased off the pressure in 2019 and is looking to simply enjoy good surf in Hawaii this season. His relaxed mindset worked well today as he scored one of the highest single wave scores of the event, a 9.37 for four strong and stylish turns on a set wave.
"It's completely different this year," said Ewing in response to his strategy. "This year I'm not thinking about qualification at all, I just want to finish the year off surfing good waves like this and having time planning a big 2020. I'm just enjoying my time here."
Ethan Ewing (AUS) isn't letting the pressure of qualification inhibit his performance.
Credit: © WSL / Keoki
Ewing's approach was in stark contrast to the mood of the ocean as the swell continued to rise with every heat. He and fellow advancing competitor Morgan Cibilic (AUS), who sits No. 16 on the QS, are now one step closer to the ultimate goal at the Hawaiian Pro.
South Africa's David Van Zyl (ZAF) is having a strong Hawaiian season after winning the Vans Pro at pumping Sunset Beach last month and now moving on in today's competition with a comfortable heat win.
"Getting to surf Sunset, I really like that wave, so to get a win definitely gave me a bit more confidence," said Van Zyl. "Going into a wave like this, it's a lot more rippable and you can do a lot more high performance surfing so it's nice to test myself in these waves."
Today he opened Round 2 Heat 3 with a 6.50 and backed this up quickly with a 6.27 to hold onto the lead from start to finish with calm, smooth surfing. Day 1 standout and former Hawaiian Pro winner Dusty Payne (HAW) earned a 6.03 as well, however was unable to find a good backup score. Payne fell to Australia's Matt Banting (AUS), who tallied seven scoring rides during the 30-minute heat, an impressive feat considering today's conditions.
 David Van Zyl (ZAF) is continuing to cause an upset to local surfers during this Hawaiian season.
Credit: © WSL / Heff
No. 13 on the QS, Liam O'Brien (AUS) looked hungry at Haleiwa and stayed well ahead of fellow heat contenders with a 15.50 scoreline in Round 2 Heat 6. O'Brien generated speed down the line on a beautiful open face and unloaded multiple vertical turns to secure the 7.33, then capped off his performance with an 8.17 to boost his confidence heading into Round 3.
With only three years under his belt as a full-time QS contender, O'Brien made headlines after a runner-up finish at the Vans US Open of Surfing Men's QS 10,000 in August and is now within close range of qualifying for the CT. The Gold Coast native makes his sophomore appearance in the Vans Triple Crown of Surfing this year and will be tuning in to his technique when he surfs again in Round 3 against Jack Freestone (AUS), Alex Ribeira (BRA) and Ian Gouveia (BRA).
 O'Brien used a fearsome forehand attack as the waves increased in size for the final heats of the day.
Credit: © WSL / Heff
Surfline, official forecast partners of the Vans Triple Crown of Surfing, expect the solid WNW swell to hold for much of the day and provide well overhead to double overhead+ surf to Haleiwa Ali'i Beach for tomorrow, Sunday, November 17. Contest organizers will reconvene in the morning to determine a call by 7:30am HST. Visit WorldSurfLeague.com or VansTripleCrownOfSurfing.com for the official call.
The Vans Triple Crown has been running for 37 consecutive years on Oahu's North Shore and determines the best competitive surfer at three defining and world-class waves: Haleiwa, Sunset and Pipeline. The Hawaiian Pro at Haleiwa Ali'i Beach has a holding window from November 13 – 24 and will see a winner emerge to take the lead on the VTCS rankings. The second stop of the series is the Vans World Cup of Surfing at Sunset Beach from November 25 – December 7, and the final event is the Billabong Pipe Masters at Banzai Pipeline from December 8 – 20.
Witness the action LIVE via state-of-the-art broadcast on WorldSurfLeague.com, VansTripleCrownOfSurfing.com, Facebook.com/wsllive and on the free WSL app. Or tune into Spectrum SURF channels 20 and 1020HD, which will televise the action LIVE and in replay across the state of Hawaii.
About Vans
Vans®, a VF Corporation (NYSE: VFC) brand, is the original action sports footwear, apparel and accessories brand. Vans® authentic collections are sold in 84 countries through a network of subsidiaries, distributors and international offices. Vans® has over 2,000 retail locations globally including owned, concession and partnership doors. The Vans® brand promotes creative self-expression in youth culture across action sports, art, music and street culture and delivers progressive platforms such as the Vans Park Series, Vans Triple Crown of Surfing®, Vans Pool Party, Vans Custom Culture, and Vans' cultural hub and international music venue, House of Vans.
Vans, "Off The Wall" Since '66