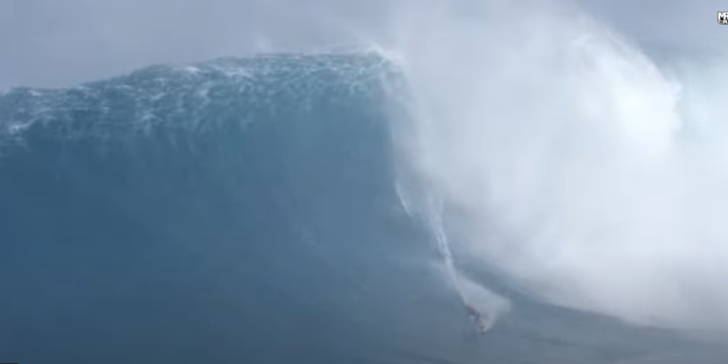 JAWS XXXL "EDDIE AIKAU SWELL" GIANT SURF SESSION!!!
It was a giant session with XXXL waves.
While the whole surfing world had their eyes and attention set on Waimea Bay for the prestigious "Eddie Aikau Swell" and event.
Jaws ( Pe'ahi) on Maui went XXXL with many unbelievable moments throughout this historical swell.

Frame grab of Zane Schweitzer on a Backside BEAST
What a special time for Hawai'i Nei.
At sunrise Pe'ahi was just waking up, the tide was very high with lots of signs of incoming swell.
It wasn't giant in the early morning but the signs of a high powered strong period swell showed early.
Yuri Soledade was the first one on it towing into waves with a colorful sunrise. Soon after Albee Layer and a few others started a paddle in session. Albee got barreled and drained on his first wave. Kai Paula impressed all with the wave of the morning, he got a crazy deep in and out riding over the foam ball on exit.
The swell really started filling in and the wind slowly started coming up.
Then the tow in session started Shaun Walsh just got the first giant wave, an XXXL wave. It started pumping around 10:00 a.m. with heavy and giant perfect waves.
Trevor Carlson got a few mean giant waves too. Izzi Gomez got a deep barreled on her first tow in wave of the day. She's was going nuts.
Ridge Lenny showed up and got a giant wave to start off his session that he got barreled on, it was an epic one. Ridge also packed another huge one then his driver Ola who does safety almost got caught in a big wave attempting to rescue Ridge with his jet ski. That was a heavy moment.
Shaun Lopez timed the peak of the swell in search of the biggest waves possible. Right around 2pm the swell pulsed really hard.
Austin Kalama was towed in by his father Dave Kalama on one of the biggest sets of the afternoon.
Zane Schweitzer got one of the biggest waves as well, 30ft plus Hawaiian. It was the XXXL set !
Those were some the biggest waves we have seen yet from the cliff.
The "Eddie Aikau Swell" will go down in history as one on the most memorable days in big wave surfing.
All content shot in High Quality 4K on January 22nd & 23rd 2023 Enjoy the action and Aloha Nui ! Paradise It !
Filmed by PACIFIC ISLAND DRONE & MROD MAUI ©