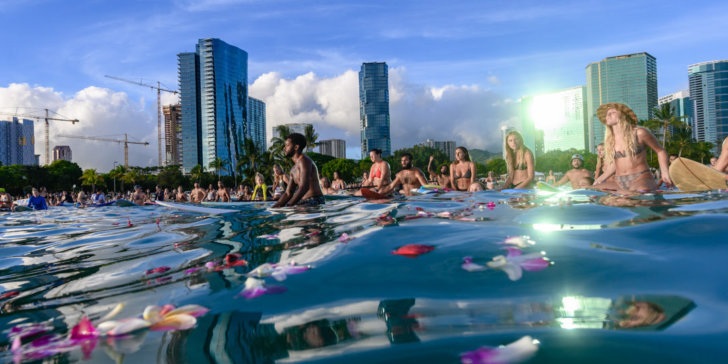 Front Page Photo by Ken G Kosada
Black Lives Matter.
Aloha SCH 'Ohana,
George Floyd, Breonna Taylor, Eric Garner, Travyon Martin and far too many other Black Americans have unjustly lost their lives to an oppressive system. The work to combat this oppression is a necessity, not an option, and it will take all of us united to radically address the racism that permeates our society. The entire team at Sustainable Coastlines Hawai'i stands in solidarity with the Black community. We are committed to learning, continually striving to do better, and standing up for justice. As an organization, we recognize that our core values rooted in protecting the environment are not isolated — They are intrinsically tied to the well being and safety of the people of this world. The communities hit the hardest by environmental injustices are often people who have been marginalized by systemic racism and oppression. We are committed to taking full responsibility and empowering our staff, volunteers, and community to do our part to fight these injustices together.
Yesterday we celebrated World Oceans Day with a heavy heart and as we continue to honor the ocean and all that connects to it, we hold close the knowledge that the health of what we protect resides in a more just and equitable world. At the core of our operations since being founded in 2011, is our mission: Inspiring local communities to care for their coastlines. The scope of the environmental movement goes far beyond our oceans, it is for the people. Our staff is taking time to reflect, take action and actively participate in this movement. We're here to support and take action in any way we can. If you have any questions or want to engage in the tough conversations, 
we're here
 for that and want to grow together. Not just now, but perpetually in to the future.
Over the weekend our volunteers and staff joined paddle outs as well as the 10,000+ participants in Honolulu in the peaceful march for Black Lives Matter. We contributed in many ways, but also held our mission close to our heart by collecting plastic bottles and cans from the marchers. Recycling proceeds will all be donated directly back to 
BLM.
Our work is of course never done. We look forward to continuing to support this movement in all that we do. The necessity for breaking the status quo and exposing the injustices that harm people and place will be rooted in our mission forever. 
Let us know
 how we can help.
and nationally relevant.
We found it useful for learning, and we hope you do too.