photo: JP Van Swae. Nathan Fletcher and Garret McNamara, 2011/12's BIG-WAVE Surfing Kings.
The house was packed at The Grove in Anaheim Nathan Fletcher humbly accepted his XXL Award for Ride of the Year for his historic wave at Teahupoo. Towed into it by Makua Rothman in August 2011.
"When you catch a wave like this they don't give you public speaking lessons," stammered Fletcher, searching his pocket for his "notes."
"Nathan should win because anybody that can survive what he did deserves Ride of the Year," claimed Garrett McNamara who was also in contention for the award and earlier in the night won top prize for a world record 78-foot wave (12' less than the original estimate) he was towed into off the coast of Portugal on Nov. 1, 2011.
But the night belonged to Fletcher, who also won the Monster Tube of the Year Award and the Surfline Performance Award. Awestruck by all the fan fare, when he won the Monster Tube Award at the start of the show he was nowhere in sight.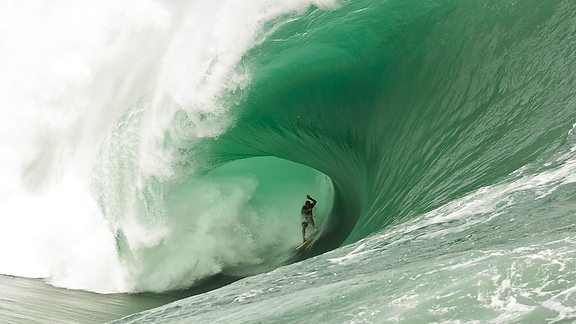 Joli photo: Aug. 27, 2011 in Tahiti, a day that will live on in surfing infamy ...Fletcher's epic moment in the eye of the storm.
Nathan Fletcher is core as they come. Tears streamed down his face as he explained how his wave at Teahupoo changed his life. Greg Long summed it up when talking about his Puerto Escondido wave that was up for the paddle-in award: "It only takes one wave to change your life."
After 12 years in, the XXL Awards and big-wave surfing continue to blow up.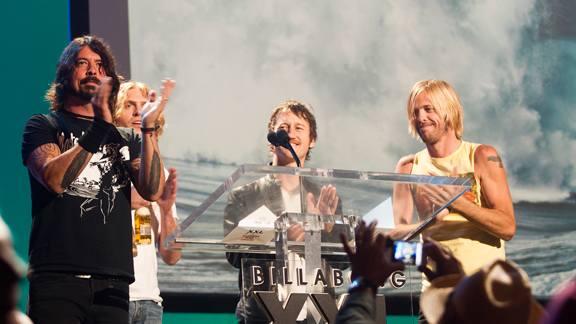 JP Van SwaeDavid Grohl and band Chevy Metal handed out the Monster Tube Award, and then stayed to play a set after the show.
David Wassel, who won the Paddle Award for the 53-footer he got chewed on at Jaws said "Honestly, I don't know any of you people, but I have to thank you, becaue 20 years ago when I started all this nobody cared."
But today, thanks to Billabong and all these brave wave warriors, more people care than ever before. And with the Foo Fighters, Greg "Da Bull" Noll, a couple of Playboy bunnies, Tito Ortiz and Tony Hawk showing up on the same night who could argue the cross over respect? What will next season bring? Well, if G Mac has any say.... "When I rode that wave it was just a warmup, I had my mind on something much bigger".
Billabong XXL Biggest Wave: Garret McNamara
Monster Energy Paddle Award: David Wassel
Monster Energy Monster Tube Award: Nathan Fletcher
Verizon Wipeout Award: Garret McNamara
Surfline Mens Performance Award: Nathan Fletcher
Billabong Girls Womens Performance Award: Maya Gabiera
For XXL Home Page go HERE