Shawn Parkin/ISA
From Mike Latronic's adolescent angst as a journalism student at Waialua High School, to his run as an aspiring pro surfer, to his current gig as Hawaiian surf media mogul, the man's been around. His latest endeavor consists of helping Hawaii's national team, for lack of a better term, achieve international success. In June he helped manage the junior squad to ISA gold in Panama, and now he's in Nicaragua with the masters team, where he hopes to keep the momentum going at the ISA World Masters Championships. ESPN Surfing sat down with him to see why the islands have been such a force recently, and true to form, he had something to say.
How did Team Hawaii come together for this?
Well, it was a little bit of a push/pull kind of thing. Obviously there was a lot of momentum after the Hawaiian junior team won gold in Panama, and that was pretty powerful. I was kind of hoping to carry that momentum into this. At first I almost bailed on it because we couldn't find sponsorship and we didn't have as much time to get everything together as I thought. Last year's Masters event was in October, and having the job of finding sponsors and managing the logistics, I figured okay, when I get back from Panama in early June I can start to get everything together. Then boom, it's in July. At first Sunny [Garcia] couldn't come because he had plans to be in Jeffreys Bay, and Pancho [Sullivan] had other plans. We had people just frothing to come, but schedules were fighting us. The Hawaii pride was running high, but in the end logistically and financially we were running dry. It wasn't until Sunny called me up and said, "Hey, my plans changed, lets do this," that I re-rallied the effort.
A lot of good momentum coming out of Hawaii right now, what's in the water?
Two pounds of sugar and three scoops of honey, you know, I don't know, man. Geographically Hawaii's in a great spot. It's like a mini Australia kind of. You have this island surrounded by water, lots of people surf, and the competition is high. Everybody's constantly pushing each other, and I think on a spiritual or historic plane, Hawaii is often touted as bringing surfing to the world. You know, Duke Kahanamoku was the ambassador of surfing, and I think in our own way that's kind of what we're doing here. More than anything we have to be ambassadors of where we all come from. It's a lot of logistics: constant wind, constant swell, kids constantly pushing each other.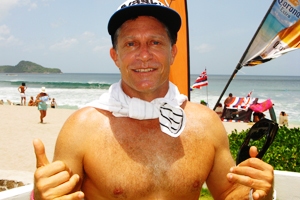 S. Whisper
Latronic, the organizational mind behind Team Hawaii
Getting noticed outside of Hawaii has sometimes been a challenge for kids from the islands; do you think that's changing?
I don't think so. I think that's another exponent of logistics. The bottom line is that there's a lot of talent in Hawaii, just like there is in Australia or California, but the market in Hawaii is so much smaller than most markets, so when you get companies that are looking to sponsor kids, the bottom line is that it won't be more than California or Australia because the return on their investment isn't there. The number of hot young kids you can sponsor from any territory is probably some kind of cost/reward ratio or formula. Where Hawaii will do a few million dollars a year in business for any given company, somewhere say like Florida can do that in one season or something.
But wait! There's more!
Check out the entire feature on ESPN HERE