Photo: Courtesey Griggi.
Check this ESPN Story By Jon Coen of a talented female photographer.
"Pipeline on an evening swim -- by far one of the most beautiful moments I have experienced from the water. It was glassing off and the colors were perfect. Pipeline is truly an experience, whether you're surfing, shooting or just watching," she says.
Despite the "Blue Crush effect" (that may be waning at the moment) surfing is dominated by X chromosomes. If surf photographers had their own clubhouse, there wouldn't even be a ladies room. And of the lensfolk who paddle into the ocean to shoot, you will rarely ever see a female treading a pair of Churchills at a heavy break.
Lucia Griggi portfolio gallery
And then there's Lucia Griggi, an Italian born, English-educated lady who doesn't much care about the gender-based status quo and comes back from epic adventures around the globe with solid photos to show for it -- some from the world's most unforgiving venues.
"Seeing Pipeline break big for the first time was a silent moment. I did not want to look through my camera and shoot, but just sit in silence and feel the wave break on the shore. I knew I had to go swim!" she recalls.
"The first time I swam Pipe was small day, several years ago, a better day of the Pipeline Masters. I had explored the reef when it was flat, so I knew how much room I had beneath me: not enough. After this I was ready for size. Well, probably not -- but who cared?" she says.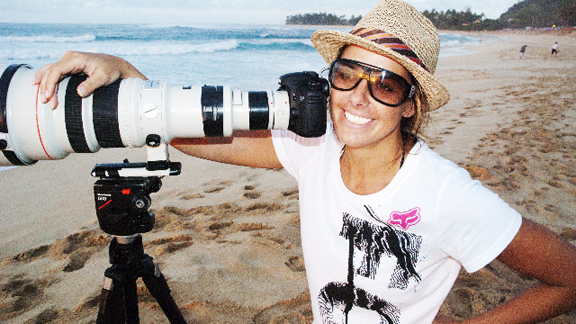 Courtesey GriggiLucia Griggi, independent woman with a lot of lens (and a lot of something else.)