Laird Hamilton needs no introduction. His reputation as a big-wave surfer of unparalleled accomplishment precedes him. He's one of the most recognizable surfers on the planet, appearing in everything from American Express commercials to Hollywood features to just about every mainstream media outlet in existence. And now you can add "Oprah's Master Class" to his already extensive list of appearances -- the episode premiered recently at 10 p.m. ET on the Oprah Winfrey Network.
This week ESPN Surfing had the chance to catch up with the legend to get his take on working with the O, where stand-up paddle surfing has taken him and why he thinks the resurgence in traditional big-wave paddle surfing is nothing more than a "gimmick."
ESPN: You've been on "Martha Stewart," "60 Minutes," "Dateline," etc., but "Oprah," that's like the Jaws of TV. Did you learn something about yourself in this process that you might not have when on other shows?
Laird Hamilton: I think that that's true whenever you're sincere about trying to answer questions that people ask you about your life. There's a certain saturation point when you've been interviewed enough times that it's not very common that you get asked a question that you haven't heard. But during this interview, they asked some questions that really forced you to dig back into your past and try to remember things from when you were maybe not really trying to keep track of things. You know, the older you get, you have a tendency to keep track of life's events a little better.
What have you been doing in the water for the last few months?
I'm in my usual position, which is pretty much outside the box. I get little to no support from the surf industry, other than if I catch a giant wave so big that they have no choice but to put it in their magazines. Because of the nature of my sponsorship and the nature of my position in surfing, I'm kind of like ... unless Susan Casey writes a book or National Geographic wants to do a story or you guys ask me questions, the surf industry itself -- or at least as far as the media -- isn't really a big platform for me.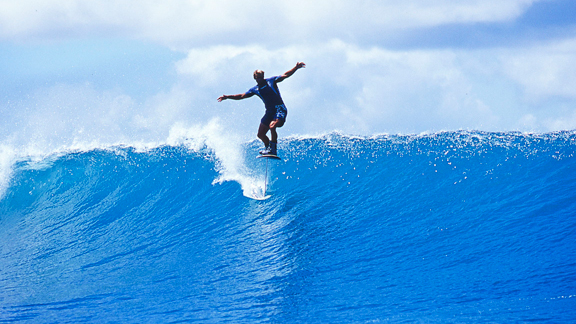 Tom Servais
Besides taking tow surfing and stand-up paddling to the next level, Hamilton is still intent on pushing boundries on his hydrofoil designs.
Even more so with all of the stand-up paddling that we've been doing. A lot of the surf industry is pooh-poohing it. But I'm focused on riding big waves on my stand-up boards. Spending my days waiting for Jaws to break -- I'm not hugely inspired by that. Right now it's a circus for Red Bull and these other companies to try and get people to go out and do things for them that will get them press, and it kind of takes away from the essence of what it's all about.
Other than evolving the different aspects of stand-up paddling, my biggest pursuit is continuing to develop hydrofoil surfing and ride the biggest waves in the world. So I kind of always have that challenge in my mind, and that continues to be at the forefront of what I want to do -- keep evolving our techniques and skills so we can handle the biggest conditions that are possible.
Ten-plus years ago since you started riding the stand-up boards -- did you ever foresee its global reach?...
Catch the rest of the interview HERE